Tarmac Dublin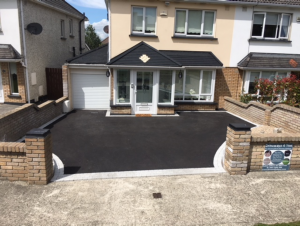 Tarmac Driveways Dublin
Tarmac Driveways Dublin by Driveways 4 You
Driveways 4 You are at the forefront in the application of providing tarmac driveways in Dublin, both traditional and contemporary. Our tarmac surfacing and resurfacing operation is established within Dublin. We have a track record of working in a wide variety of environments.
Services:
Tarmac Driveways
Tarmac pathways
Residential street surfaces
Public and commercial car parks
Industrial estate road surfacing
School playground tarmac surfacing
Of course if you are looking for more evidence of our quality services, do not just take our word for it. We can also supply you with many satisfied customer reviews. All that you have to do is to contact us over the phone or through the electronic form on our website, and we will be happy to provide further portfolio details.
As one of the top tarmac contractors in the country, we feel proud to show off what our company has done. We have also added a number of images on our website that display the difference that we can make to all customers.
What Our Customers Say
I would recommend Driveways 4 You because I was very satisfied with the quality of their work and their meticulous attention to detail. The team worked hard, they were friendly and obliging. I have no hesitation in recommending this company.
Delia O'Brien
James and the team are amazing; from initial consultation and advice through to finishing touches, he transformed my driveway and front garden.
Terri Moloney
Top class company to deal with I am more than happy with the finish and effort the men put in and would not hesitate recommend then.
Andrew Harding
I found James and his team to be very helpful and made great suggestions. They did a fantastic job and I am very happy with my driveway.
Phillip Marsden
Dundrum, Dublin 14
James and the team done a fantastic job on our tarmac driveway in Celbridge. He is very easy to deal with and gave us a good price. I would highly recommend him.
William Evans
Celbridge, Co. Kildare
Driveways4you extended and paved our front driveway in October last year. After a lot of trouble with other companies – not returning our calls or when they did come to view our driveway not bothering to give us a quote??? – we were relieved and delighted with how quickly James responded to our call (same day) and by the great advice he gave us when it came to the design of the garden. James recommended Tobermore Tegula and we are absolutely delighted with the result. They were on time, hardworking, tidy, always polite and professional. We highly recommend them to anybody considering having paving work done!
Francois Pion
James and his crew recently revamped our back garden, we have two small kids and wanted a space that would both suit there needs and ours, James called to the house and came up with a design that we all agreed on, from start to finish, we found James and his staff to be very professional, punctual, and tasteful, we were absolutely over the moon with the end product, and would have no hesitation in recommending James in the future.
Michael Fitzgerald
Absolutely amazing job from start to finish, anything you want they'll do no problem. Great understanding of what you need. And also great team of people. Totally professional.
Daniel Masterson
So thrilled with our Patio, Driveways 4 You are honest, efficient, very reliable and exceptionally clean.
Mrs. Higgins
Blanchardstown, Dublin
James and his team were very professional from the start. He reassured me of the work to be done was not a problem. They were on time, did an excellent job, and their clean up after the job was completed was superb. We would definitely recommend them to do work in the future for anyone who needed paving work done and we wish them all the very best in the future.
John & Phil
Blanchardstown, Dublin
Driveways 4 You did a great job on our double drive, they have great ideas and we are truly very happy with their work. All the best James.
Suzanne & Declan
Blanchardstown, Dublin