Tarmacadam Driveways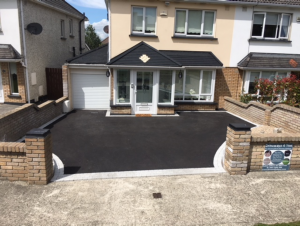 Tarmac Driveways Dublin
Tarmac Driveways
Driveways 4 You are at the forefront in the application of providing tarmacadam driveways in Dublin, both traditional and contemporary. Our tarmacadam driveway surfacing and resurfacing operation is established within Dublin. We have a track record of delivering quality tarmac driveways and mostly importantly extremely happy customers. View our Google Reviews.
Services:
Tarmacadam Driveways
Tarmac Contractors
Tarmacadam pathways
Residential street surfaces
Public and commercial car parks
Industrial estate road surfacing
School playground tarmac surfacing
Of course if you are looking for more evidence of our quality services, do not just take our word for it. We can also supply you with many satisfied customer reviews. All that you have to do is to contact us over the phone or through the electronic form on our website, and we will be happy to provide further portfolio details.
As one of the top tarmacadam contractors in Dublin, we feel proud to show off what our company has done. We have also added a number of images on our website that display the difference that we can make to all customers.
What Our Customers Say
I would recommend Driveways 4 You because I was very satisfied with the quality of their work and their meticulous attention to detail. The team worked hard, they were friendly and obliging. I have no hesitation in recommending this company.
Delia O'Brien
James and the team are amazing; from initial consultation and advice through to finishing touches, he transformed my driveway and front garden.
Terri Moloney
Top class company to deal with I am more than happy with the finish and effort the men put in and would not hesitate recommend then.
Andrew Harding
I found James and his team to be very helpful and made great suggestions. They did a fantastic job and I am very happy with my driveway.
Phillip Marsden
Dundrum, Dublin 14
James and the team done a fantastic job on our tarmac driveway in Celbridge. He is very easy to deal with and gave us a good price. I would highly recommend him.
William Evans
Celbridge, Co. Kildare
Driveways4you extended and paved our front driveway in October last year. After a lot of trouble with other companies – not returning our calls or when they did come to view our driveway not bothering to give us a quote??? – we were relieved and delighted with how quickly James responded to our call (same day) and by the great advice he gave us when it came to the design of the garden. James recommended Tobermore Tegula and we are absolutely delighted with the result. They were on time, hardworking, tidy, always polite and professional. We highly recommend them to anybody considering having paving work done!
Francois Pion
James and his crew recently revamped our back garden, we have two small kids and wanted a space that would both suit there needs and ours, James called to the house and came up with a design that we all agreed on, from start to finish, we found James and his staff to be very professional, punctual, and tasteful, we were absolutely over the moon with the end product, and would have no hesitation in recommending James in the future.
Michael Fitzgerald
Absolutely amazing job from start to finish, anything you want they'll do no problem. Great understanding of what you need. And also great team of people. Totally professional.
Daniel Masterson
So thrilled with our Patio, Driveways 4 You are honest, efficient, very reliable and exceptionally clean.
Mrs. Higgins
Blanchardstown, Dublin
James and his team were very professional from the start. He reassured me of the work to be done was not a problem. They were on time, did an excellent job, and their clean up after the job was completed was superb. We would definitely recommend them to do work in the future for anyone who needed paving work done and we wish them all the very best in the future.
John & Phil
Blanchardstown, Dublin
Driveways 4 You did a great job on our double drive, they have great ideas and we are truly very happy with their work. All the best James.
Suzanne & Declan
Blanchardstown, Dublin
Tarmacadam and Asphalt Driveway installations in Dublin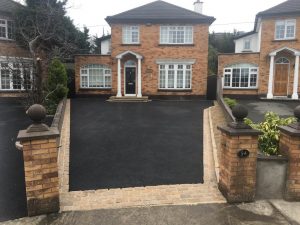 To most of us, there doesn't seem to be a difference between tarmacadam and asphalt. As two of the most commonly and widely used road surfacing materials, they have a lot of similarities however, there are some distinct differences between the two materials. While they do look almost exactly the same on the surface, there are some factors that you should consider when deciding which to use.
If you're looking for a hard wearing material for your driveway but do not know whether to settle for tarmacadam or asphalt, you've definitely come to the right place. Choosing between the tarmacadam and asphalt can be tricky if you're not clued up on the benefits of each one, so to help you decide, we have put together a little guide on the difference between tarmacadam driveways and asphalt driveways, and which one is more suitable for your requirements.
Well what is tarmacadam and asphalt?
Firstly, let's take a look at these materials . Tarmac, short for tarmacadam, is made when a layer of crushed stone or aggregate is coated and mixed with tar. This mixture is laid and then compacted with a roller to form a nice smooth surface. Asphalt, on the other hand, is a more slightly more modern variation in which the tar is replaced by bitumen (a byproduct of petroleum distillation). While asphalt is a similar mixture to tarmacadam, it actually consists of less external materials, making it slightly harder wearing. Both asphalt and tarmacadam are used for driveways, pavements and road surfaces.
So deciding between a tarmac driveway and an asphalt one can be difficult – after all, which one is going to best meet your needs? Read on further to learn about the benefits of both.
The benefits of tarmac driveways
Long-lasting and durable
Tarmacadam is a strong and durable surfacing material and is exceptionally resilient to vehicles that are heavy, this is why it is so commonly used for driveways and roads. If you have a big family with lots of cars or there is lots of traffic coming in and out of your driveway daily (e.g., if you run a business from your own home which is very common considering the current climate), you're going to need a material that will not get damaged or crack under pressure.
Tarmacadam is very long-lasting and strong as well as weather resistant. Whether you live in an area that gets extremely cold and suffers from a lot of rain or you're located in an area where the summers are hot, tarmac is a reliable surface material that can withstand all conditions. Because of its smooth surface, tarmacadam does not have cracks that can be filled when it rains.
Quick and easy to install
Tarmacadam driveways are extremely easy to install and can be accompanied with a natural stone border with a colour chosen to suit your home. They are perfect for those who want a functional driveway and can be installed in nearly no time at all. Tarmacadam is laid as a hot liquid; the once it is applied, it must be allowed to cool, allowing the particles to bind strongly together. One of the main advantages of tarmacadam driveways is they can be laid directly onto existing surfaces, making it easier to use than other road surfacing materials. Other surfaces, for example, require a full depth bedding layer to be laid down first – only once this is done can the new surface be laid.
Advantages of asphalt driveways
Low maintenance costs
Asphalt driveways can be repaired easily and inexpensively. If an asphalt driveway begins to crack, you can purchase crack sealant products at your local home improvement store, or, alternatively, there are lots of companies and contractors who can come out and make repairs quickly and easily for you. Generally, however, asphalt requires little maintenance.
To get the most out of an asphalt driveway, you should clean the driveway at least twice a year using a stiff broom and strong hose spray, ensuring that all debris and dirt is removed. Also, seal-coat the asphalt every two to five years to ensure that it remains attractive and weather resistant.
Durable and strong
Similarly to tarmac, asphalt is also strong, durable and long-lasting. Large cracks are less common for asphalt paving simply because of its flexibility. As asphalt is made of aggregate that is mixed into a petroleum-based binder, it is much more flexible than tarmac. This flexibility can also help asphalt driveways from freezing and thawing when temperatures drop below freezing.
Affordable
Perhaps one of the most appealing benefits of an asphalt driveway is that it is an affordable and cost-effective road surfacing material. While all road surfacing materials, including tarmac and concrete, have their own individual benefits, asphalt is an ideal option if you're concerned about budget and are looking for an affordable solution.
If you're looking for a material that is both tough and cost-effective, asphalt is generally the preferred choice. It can be laid in just one to two days depending on the area, and only takes two days to cure. The materials used to make asphalt are cheaper than the ones used to make concrete, allowing a more economical solution to labour costs too.
Your Professional Installer
At Driveways 4 You, we are extremely proud to be the leading tarmacadam driveway installer in Dublin. Our skilled and experienced team can accommodate for any type of tarmac project, no matter the size. In addition, we can also construct domestic pathways and commercial use car parks.
Our team will always work to your specific requirements, designing the perfect tarmac driveway for your property and leaving you with results that you deserve and can be extremely proud of for years to come.
If you're looking for a reputable and reliable company with a 5 Star Rating on Google that offers affordable tarmac driveway costs without ever compromising on quality, you truly need not look further than the team at Driveways 4 You. With over 30 years of experience under our belts, we're proud to use only the highest quality materials coupled with the very best tarmac driveway techniques to ensure that your driveway and roads are protected for years to come. For more information, visit our website or get in touch today.